Hi
Telegram bot not send code to me. How do I do?
I can't sign in system.
Thank you
Hi, For telegram alarms first you need to create your bot. (Look for @botfhather in telegram)
After you create your bot, copy given token to openzmeter telegram bot configuration.
Then add your bot in telegram and tell to it. It will return your user code. Write this code in your user profile.
If you have any problem please tell me, i can connect to your ozm and check for any problem.
Thanks!
Now I still can't solve the problem.
I can't log in the system via computer, but I can use the smart phone.
For Platform as shown below and it can't monitor Electrical parameters.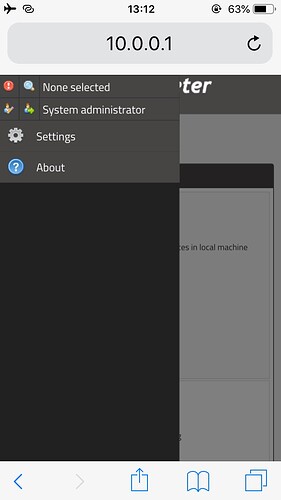 Hi, as i can see you have no wifi configuration yet. This shall be your first step.
Go to settings and look for wifi configuration button. Once wifi is configured you can see assigned IP and can access from your computer browser (chrome is recomended, firefox also works, IE/Edge dont works).
Without WIFI connection most functions doesn't works.
If you have troubles setting up wifi write us, you can give us your whatsapp, telegram or wechat id in private to solve your issue as soon as possible.